Officer Skip in Oz
3rd to 16th March 2000
Recently, Bob exchanged emails with a US Policeman, Officer Skip M (pictured left).

Skip discovered The Flat Top Crew site while he was planning a holiday to Australia.

Skip wears a high and tight flat top, which he gets sharpened every Saturday, so he decided to entrust its care to The Flat Top Crew, during his visit to Brisbane.
Bob advised Skip that he had a number of police and emergency service clients and that they would be interested in meeting him and swapping shoulder patches. Bob suggested that Skip pack his police uniform and bring a supply of patches.
Skip's first invitation, after he arrived in Brisbane came from Ken. Ken is a long standing client of The Flat Top Crew and a very keen collector of patches and badges.

Ken is a senior officer with the Queensland Ambulance Service, a State government organization which provides the ambulance service for Queensland.

Ken gave Skip a tour of an ambulance station and they are both pictured here, standing beside a vehicle.
Ken also introduced Skip to some of the Queensland Police officers who work near to his station.

Skip is pictured here with Shane, Dave and Jodie.
One of the guys who expressed an interest in meeting Skip was Jeff. Jeff is also a long standing client of The Flat Top Crew and a thoroughly decent bloke, as well as a really thoughtful guy.
Jeff was recently in the US with his wife and children and would have liked to go on patrol with some US coppers; unfortunately the opportunity did not present. Jeff thought that Skip might enjoy going on patrol with him and offered to get approval to take Skip out on patrol. Skip enthusiastically accepted the invitation, Jeff obtained approval and Skip subsequently accompanied Jeff on an afternoon shift.
Skip decided to sharpen up his flat top before going out on patrol.

Once in the chair he decided to give a whitewalled, horseshoe flat top a try while he was in Brisbane.
| | |
| --- | --- |
| | |
| Jeff and Skip meet at the police station. | Jeff normally rides a motor cycle, but opted for a car to take Skip on patrol. |
Skip really enjoyed the opportunity of going out with Jeff on his shift and saw this as one of the highlights of his Australian holiday.
Skip did take some time for relaxation and went to both the Sunshine Coast and Gold Coast. The top pictures show him relaxing at Charlies in the Cavill Avenue Mall at Surfers Paradise and at the Laser Lighthouse at Point Danger, standing with one foot in Queensland and the other in New South Wales.
The pictures below show Skip testing the surf at Greenmount Beach on the Gold Coast.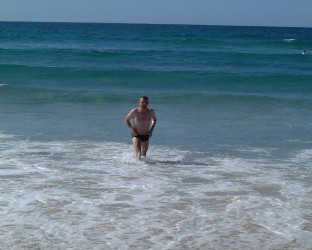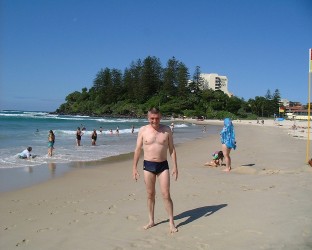 Skip's Oz adventure came to an end on 16th March 2000, when he checked in at Brisbane International for a flight to LAX via AKL.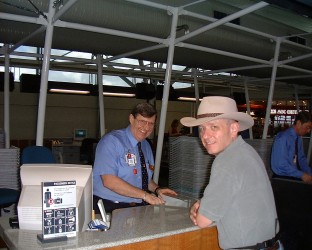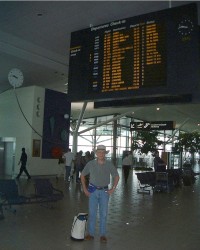 Well, the next best thing to a flat top is an Akubra!
Skip is now back home in the US and is planning another trip to Australia for sometime next year. He is hoping to get enough guys interested to make up a group.
Skip's email address is stem50@aol.com